Marketing
AR Filters: Why They Work For Brands & 7 Most Successful Examples
Find out why AR filters work so well when it comes to online engagement & digital marketing. Check out 8 most successful examples of AR Filters by brands.
Publicly available AR applications have been around for more than a decade - lingering on the sidelines in the 2000s - AR apps got their share of massive public attention in 2016 with the popular game Pokemon Go.
The game had players walking around their neighbourhoods with their phones looking out for digital Pokemons augmented in their real surroundings. With the increasing global attention and a huge fan-base, physical landmarks in the game (PokeStops) started becoming a popular form of AR advertisement for businesses. From local stores to Starbucks outlets rushed to get their locations listed as PokeStops where players can come and collect more items for the game.
Even before Pokemon's popularity Snapchat already had AR-based Snap Filters that could track and change user's face with quirky additions such as dog ears, baby-eyes, glasses & even full-face make-up.
In 2019, Instagram and Facebook launched their Spark AR studio letting anyone create and share their own filters. The filter game just got more exciting and bigger as more brands are trying to use these filters to not only engage and entertain their customers but to also deliver powerful brand messaging.
AR revenues as a whole are expected to reach more than 36 billion USD by 2023.
In this post, we'll try to find out why AR filters work so well when it comes to online engagement and why they are best for your digital marketing. We'll also look at some of the best AR-based social media campaigns and try to find out why they worked - how they created value for the business and the user.
Why Spark AR filters are so important for your marketing?
Two of the main components of any successful marketing campaign are reach and engagement. Before you plan your campaign you need to know where your target audience is - places they frequent, media they consume, people they follow, their tastes and preferences and so on. You may have killer content, but if you don't plan well to reach your target group, your marketing content won't meet its purpose.
Digital media consumption was anyway on the rise with increasing internet and smartphone penetration - amidst the Coronavirus pandemic, the number of hours an average user spends has now grown by manifolds.
Focusing specifically on social media, reports say an 87% rise in usage - not only more and more people are on social media but they are also spending more time. This is a welcome sign for brands to only get more visibility but to also ensure business continuity in these tough times. With rising popularity, Instagram pregnant with possibilities for brands. About 80% of its users follow at least one business page; signalling that people like to follow the brands they care about.
While social media platforms can promise you the reach your marketing campaign needs, they do not confirm engagement or its impact. Graphic content like images, gifs and videos are more eye-catching and get more engagement over textual content. AR filters, however, have an average engagement time of 75 secs; four times more than video content. Brands spend heavily on video ads - spending a chunk of their marketing budget on animation and production costs. How much ever you spend on making that kickass video - you cannot ensure your viewer's full and undivided attention. AR filters, on the other hand, by their nature demand engagement - people try different angles, they pose, make faces and give their unique personal touch to photos they click over your filter. Taco Bell, experimenting with Snap filters back in 2016 found that users spent an average of 24 secs before taking their pictures on Taco Bell's AR filter.
While more than a billion people are already using Spark AR filters, they are bound to get more popular and viral as they are by their nature a shareable form of content i.e. if you use a filter and take your picture, you would want to show it to your friends. Hence, with minimal spend, you can leverage the emerging tech and become a part of your user's memories and they can become your brand ambassadors giving you a limitless reach.
While most of the brands are either limited to sponsored posts or are spending huge amounts to create video ads; AR filters allow brands to give unique brand-specific experiences to their buyers at a very low production cost. The organic reach and the brand visibility you get is immense; if you can create a fun novel filter for your brand - social media users would love to share your content. Such filters will not only stay on your company page but will be part of your audiences story updates and can also stay in the catalogue of saved filters in a user's filter gallery giving your brand sustained visibility over a period of time.
Here are some of the examples where we liked how brand-based AR filters engaged users in novel and fun ways.
1. Make-Up Filters
We MakeUp, the Italian cosmetics brand was one of the first movers who started experimenting with the Facebook AR ads. Their goal was to find new prospective customers and generate sales. For this purpose, they created an AR filter that allowed users to 'try-on' different shades of its lipstick; find their perfect match and make the purchase right away. The ad-creative involved a video that demonstrated the filter's use encouraging users to try the filter for themselves. The campaign was a huge success with 53% higher CTR and a 28-point lift in sales when compared to video-only ads.
Similarly, Mac cosmetics recently launched their make-up filter where users can try-on different kinds of eyelashes and their shades.
Try now on Instagram here.
2. Festival-based Filters
Coca-Cola came up with a Christmas offering for its Instagram followers. The beverage brand used its brand mascot, a Polar bear, holding a Coke bottle and sporting a branded scarf - dancing in your living room. The campaign was a festival hit and users clicked pictures posing with the polar bear.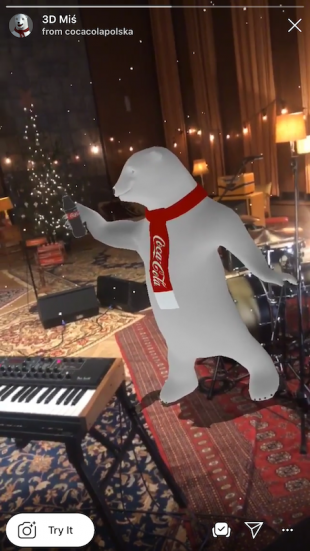 Taco Bell, America's best know Mexican food chain was one of the first brands to experiment with AR filters. The filter replaced user's heads with a giant Taco and had Taco Bell's logo in the bottom corner. Even though available for just one day, Cinco de Mayo 5th May, the filter was used by more than 100 million users.
3. Gamified AR Filters
If you don't recognize or trust a brand you may avoid using its branded filter in your photo frame. MIB, Sony pictures' movie franchise, overcame this barrier by coming up an engaging game that asked the user to look for and shoot aliens in their surroundings. The game not only introduced the film's characters and concept but also had a CTA, in the end, to allow users to engage with further movie-related content like its trailer and even book ticket.
Source: BusinessInsider.com
Frooti, India's favourite mango flavoured drink, created a game that tracked users' head. Users can enable their camera and could catch falling mangoes when they opened their mouths.
Source: BusinessInsider.com
4. Brand-based Photo Frame Filters
Purina, Nestle's petcare company, created a photo frame based filter around a Dog show event that it sponsored. The filter featured paparazzi sound effects and promoted the petcare brand along with promoting its dog show event.
Headspace, popular guided meditation app, created its filter to introduce the elements of its app. The filter has calming music along with blue and orange brand colours - giving their customers a peek into how their app experiences will be.
5. Fashion & Lifestyle Brands
Fashion and lifestyle brands pay special attention to their social media handles and are always on the lookout for newer ways to engage with their customers online.
Ray-ban created a fun filter that added reindeer horns to people's heads. The filter also had sound effects for users who chose to rec a video. The filter gave the audience a fun way to try-on and interact with Ray-ban sunglasses.
Similarly, Gucci created its jewellery-like headgear filter, 'I see you'. The filter added beauty effects to user's faces along with a quirky headgear.
Prada, on the other hand, utilised the trend around a popular question-Ans based filters doing the rounds over social media. Prada created a personality game suggesting personality types to its users.
Try-now on Instagram here.
6. Virtual Try-Ons
Adidas was the first brand who worked with Snapchat to allow users to preview and try-on its new product, the Ultraboost 2019 running shoe. Since then, Snapchat has worked with brands to merge AR with e-commerce. Snapchat now allows advertisers to add a 'Shop Now' button to AR filters lenses.
Nicki Minaj, to promote her new album "Queen," launched a Queen-themed AR Lens with a Shop button. The filter allowed fans to click their pictures with an exclusive headgear and also buy her "Queen" necklace.
7. Social Messaging on Tik-Tok
Dettol and Lifebuoy started #HandWashChallenge and #LifebuoyKarona campaigns respectively asking Tik-Tok users to join in the COVID awareness campaign with their hand wash instruction videos.
Try-now on Tik-Tok.
Users joined in enthusiastically dancing on cheerful tunes framed inside brand filters instructing everyone on the importance of hand hygiene. Not only did the general users but even celebrities participated in the challenge making it a huge success. The campaign reached millions, creating awareness on the proper hand wash technique, and gave the soap brands huge visibility over various social media platforms.
Try-now on Tik-Tok.
Learn More
If you want to creatively strategise your digital marketing to include AR-filters contact us now. We would love to work with you to create novel and fun filters that can engage your audiences while delivering powerful brand message across the web and social media.
---